A WINNING COMBINATION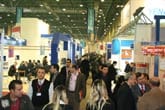 WIN 2012 offers TWO dynamic events under the same roof!

World of Industry Part I
Discover a complete range of products and services, from machine tools to precision tools, automation components and customized systems. Come to learn, network and sign deals at this in-depth showcase for the latest products and trends in Metalworking, Welding, and Surface Treatment.


World of Industry Part II
Successful professionals who are "in the know" make this fair a top priority, year after year. WIN -- World of Industry Part II is the absolute leading trade fair for the high-growth Automation, Electrotech and Hydraulic & Pneumatic, and Materials Handling sectors.
The synergy of this mega-event is certain to be a magnet for international attendees. WIN 2010 hosted 1,167 exhibiting companies and 116,965 attendees from all over the world. This is an event that you can't afford to miss!