INDUSTRIAL AUTOMATION NORTH AMERICA and MDA NA @ IMTS 2014
Following a very successful 2012 launch, Industrial Automation North America at IMTS is well on its way to becoming North America's leading trade show for process, factory and building automation. To make it easier for manufacturers to find the best solutions for all of their manufacturing needs, we are also bringing motion control, power transmission and fluid technology -- Motion, Drive & Automation North America (MDA NA) @ IMTS 2014.

To find out more information and to sign up for our enewsletter, please click here.
Thomas Visti, COO and VP of Universal Robots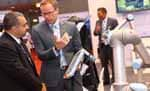 We conducted several marketing campaigns prior to the show to schedule new business meetings in our product lounge at Industrial Automation North America. Our main goal was to raise awareness in North America. We exceeded our expectation of meeting around 100 new leads a day.
Industrial Automation North America & IMTS 2012 Demographics
The inaugural show surpassed all expectations with these impressive numbers:
100,200 total registrants (included with IMTS)
109 exhibitors
Representation from 19 countries
Read more (Please download the End-of-Show Report on the right menu)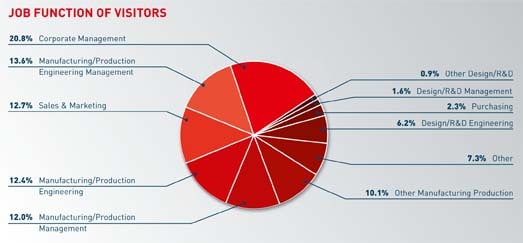 For more information, please contact Aryan Zandieh or Thomas Labendsch.

INDUSTRY MARKETS/KEY PRODUCT CATEGORIES
INDUSTRIAL AUTOMATION
MOTION, DRIVE & AUTOMATION

Industrial Automation Systems

Assembly & Handling Systems, Linear Positioning Systems
Robotics
Industrial Image Processing Systems
Control Systems, PLC, SCADA
Sensors and Actuators
Industrial PCs
Communication, Networks and Field Bus Systems
Embedded Systems
Measuring and Test Systems
Industrial Automatic Data Capturing and Identification Systems
Laser Technology
Automation Services
Industrial Building Automation Systems
Safety and Security Systems

Electrical Systems

Electronic and Opto-Electronic Components
Electric and Electronic Test and Measuring Equipment
Lighting Equipment

Industrial IT & Software

Operating Systems
Database Systems, DBMS
Program Development Systems
Virtual Reality Systems
Multimedia Software
Speech Recognition Software
Video Conferencing Systems
Internet & Communication Software
Manufacturing Execution Systems (MES)
Product Life Cycle Management Software (PLM), Computer Aided Design (CAD)
Enterprise Resource Planning Software (ERP)
Customer Relationship Management Software (CRM)
Computer Aided Facility Management Systems
Supply chain & demand chain management systems
Human Resources Software
Quality Management Software
Industrial IT Services & Outsourcing
Industrial IT & Software, Others

Microsystems Technology

Microsystems Components
Modular Micro-Systems
Micro Sensors
Micro Actuators
Micro & Fiber Optics
Micro Assembly
Micro Joining Technology
Micro Reaction Technology
Design and Modeling of Micro-Systems
Micro Engineering
Rapid Micro Product Development
Nanotechnology
Microsystems Technology, Others

Linear Drives, Gears, Motors & Mechanical Transmission Systems

Linear Motion Systems
Gears
Electronic Motors & Frequency Inverters, Motor Drives
Chain Transmissions
Couplings and Brakes
Fasteners
Springs

Bearings

Floating Bearings
Rolling Bearings

Hydraulics & Pneumatics

Oil Hydraulics
Pneumatics
Condition Monitoring and Vibration Reduction

Sealing Technology & Lubrication

Seals
Lubrication Systems
Lubricants

Production Equipment

Equipment for Bearing Production and Machining
Manufacturing Equipment for Mechanical Transmission Systems, Motors and Seals

Services & Software for Drives, Gears, Hydraulics, Pneumatics

Engineering Services
Software
Support and Maintenance Services

Compressed Air & Vacuum Technology

Air Compressors
Compressor Accessories and Components
Compressed Air Processing Equipment, Dryers, Coolers, etc.
Compressed Air Storage and Distribution Equipment
Compressed Air Equipment, Other
Vacuum Technology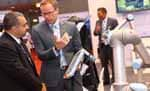 The International Manufacturing Technology Show is one of the largest industrial trade shows in the world, with more than 1,900 exhibitors and 100,000 visitors. The event is held every two years in September at McCormick Place, Chicago.
For more information, please vist imts.com
Partner

Media Partners