INDUSTRIAL AUTOMATION NORTH AMERICA @ IMTS 2016

Product Categories
Partners
Industrial Automation North America at IMTS is well on its way to becoming North America's leading trade show for process, factory and building automation (click here for the product categories). Industrial Automation North America has already distinguished itself as the place with the automation industry's most innovative solutions and technologies. The fact that it's co-located with IMTS, North America's leading manufacturing technology trade show, only provides more incentive to get involved.
Industrial Automation North America, MDA NA and IMTS create the most comprehensive manufacturing technology trade show in the Western Hemisphere -- you will surely find technologies and solutions to meet your manufacturing needs. Network with key industry players and learn from industry experts through the Industrial Automation North America conferences and training workshops.
In 2016, Motion Drive Automation North America will be launched at IMTS.  This event further expands the range of technologies and solutions presented at IMTS by bringing the power transmission, motion control and fluid technology sectors together

To find out more information and to sign up for our enewsletter, please click here.
Industrial Automation North America & IMTS 2014 Demographics
The inaugural show surpassed all expectations with these impressive numbers:
More than 114,147 total registrants (included with IMTS)
194 exhibitors from 14 countries 
Read more here
For more information, please contact Aryan Zandieh or Thomas Labendsch.

Back to top
INDUSTRY MARKETS/KEY PRODUCT CATEGORIES
INDUSTRIAL AUTOMATION
MOTION, DRIVE & AUTOMATION

Industrial Automation Systems

Assembly & Handling Systems, Linear Positioning Systems
Robotics
Industrial Image Processing Systems
Control Systems, PLC, SCADA
Sensors and Actuators
Industrial PCs
Communication, Networks and Field Bus Systems
Embedded Systems
Measuring and Test Systems
Industrial Automatic Data Capturing and Identification Systems
Laser Technology
Automation Services
Industrial Building Automation Systems
Safety and Security Systems

Electrical Systems

Electronic and Opto-Electronic Components
Electric and Electronic Test and Measuring Equipment
Lighting Equipment

Industrial IT & Software

Operating Systems
Database Systems, DBMS
Program Development Systems
Virtual Reality Systems
Multimedia Software
Speech Recognition Software
Video Conferencing Systems
Internet & Communication Software
Manufacturing Execution Systems (MES)
Product Life Cycle Management Software (PLM), Computer Aided Design (CAD)
Enterprise Resource Planning Software (ERP)
Customer Relationship Management Software (CRM)
Computer Aided Facility Management Systems
Supply chain & demand chain management systems
Human Resources Software
Quality Management Software
Industrial IT Services & Outsourcing
Industrial IT & Software, Others

Microsystems Technology

Microsystems Components
Modular Micro-Systems
Micro Sensors
Micro Actuators
Micro & Fiber Optics
Micro Assembly
Micro Joining Technology
Micro Reaction Technology
Design and Modeling of Micro-Systems
Micro Engineering
Rapid Micro Product Development
Nanotechnology
Microsystems Technology, Others

Linear Drives, Gears, Motors & Mechanical Transmission Systems

Linear Motion Systems
Gears
Electronic Motors & Frequency Inverters, Motor Drives
Chain Transmissions
Couplings and Brakes
Fasteners
Springs

Bearings

Floating Bearings
Rolling Bearings

Hydraulics & Pneumatics

Oil Hydraulics
Pneumatics
Condition Monitoring and Vibration Reduction

Sealing Technology & Lubrication

Seals
Lubrication Systems
Lubricants

Production Equipment

Equipment for Bearing Production and Machining
Manufacturing Equipment for Mechanical Transmission Systems, Motors and Seals

Services & Software for Drives, Gears, Hydraulics, Pneumatics

Engineering Services
Software
Support and Maintenance Services

Compressed Air & Vacuum Technology

Air Compressors
Compressor Accessories and Components
Compressed Air Processing Equipment, Dryers, Coolers, etc.
Compressed Air Storage and Distribution Equipment
Compressed Air Equipment, Other
Vacuum Technology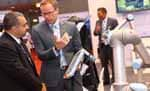 The International Manufacturing Technology Show is one of the largest industrial trade shows in the world, with more than 2,000 exhibiting companies and 114,147 registrants. The event is held every two years in September at McCormick Place, Chicago.
For more information, please vist imts.com