Industrial Automation INDIA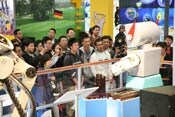 India remains one of the fastest growing economies in the world. The Indian subcontinent currently represents the second largest market for automobiles and has the second largest printing industry in the world after China. And India is one of only three countries which manufacture high-performance computers. Experts are also predicting above-average growth in the mechanical engineering industry. Much of this growth is generated by extensive investment in the infrastructure and the modernization of Indian industry.

No economy can afford not to invest in automation. Without automation, no industrial company or industry can face up to international competition. India is a promising market, especially due to the ongoing growth of the country's automobile industry. The fact that English is the business language, plus low wages, relatively easy access to raw materials and favourable conditions for business, including liberal currency controls, make the Indian market interesting to foreign investors.