Hannover Fairs USA, Inc.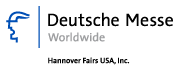 Hannover Fairs USA, Inc. is the U.S. subsidiary of Hannover, Germany's Deutsche Messe, one of the world's largest and most active event organizers.

We develop and manage marketing programs at Deutsche Messe events in Hannover, Germany, as well as in such key emerging markets as China, India and Turkey. Our programs reflect the global scope of Deutsche Messe's activities and include such world-renowned trade fairs as CeBIT (information and communications technology), DOMOTEX (floor coverings), HANNOVER MESSE (industrial technology), and LIGNA HANNOVER (forestry and wood industries).  

Our main function at Deutsche Messe events is organizing turnkey group exhibits that offer small and mid-sized companies a convenient and cost-effective way to participate.

Visit Our Events to learn more.