CeMAT INDIA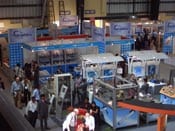 India's booming economy has generated a huge demand for modern logistics systems. In fact, this sector is one of the fastest growing areas of the nation's economy. As logistics is a relatively new industry to India, excellent opportunities still exist for foreign companies. The international logistics industry expects the Indian market to grow by 20 to 30 percent per year. Experts estimate that cool chain logistics and refrigerated storage alone represent a market worth 1.2 billion euros.

Continued growth in the Indian economy has created greater demand for the efficient handling and transportation of goods and products. The importance attached to logistics is underlined by the fact that CeMAT INDIA, which addresses diverse user groups, attracts a high proportion of decision-makers.

In the 2011 shows, which is consisted of CeMAT INDIA, MDA INDIA, IA INDIA, LASER INDIA, and SURFACE INDIA, there were 400 exhibitors from 25 countries, with official country pavilions from Germany, Italy, Spain, Taiwan, China and Korea showcasing latest international technologies on a common platform. Over 6,800 qualified visitors were present at the shows.