CeMAT ASIA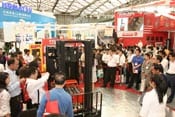 CeMat Asia is an effective approach to get into China and out to global market. This tradeshow offers you an industry platform to share information and expand your business. Learn more of the China market and present your modern logistics products and services to decision makers from around the world.


Showcase your new innovative products and technologies in CeMAT ASIA and learn from the leading players. See the advantages to negotiate with your current and future customers in face to face meetings and expand your sales network. Take advantage of the opportunity and improve your sales in the world's most booming markets and join CeMat ASIA 2015.

Where to participate in the best platform for product strength and international orders? Join CeMAT ASIA, join the world!